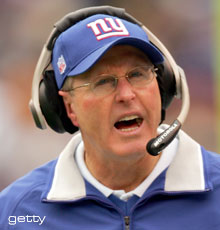 Dec

22
Tags
Related Posts
Share This
Tom Coughlin: Quitting Is Not In His DNA
As the Giants season winds down there has been speculation about Tom Coughlin's future with the Giants. The incontrovertible facts are that the Giants have had a lousy season while also not having made the playoffs in way too many seasons during his recent tenure.
Of course the two Super Bowls count but the cold hard facts are that the Giants have not made playoffs way too many times, and have played so poorly this season. These things cannot be overlooked.
It says here that Coughlin will not leave by his own volition and if given the opportunity will return next season. Coughlin will not put his tail between his legs and walk off especially after the season the Giants just had—it is simply not in his DNA.
Coughlin is from another time and era, when pride, character,  and work ethic mattered. And you can be sure that he cares deeply about these values and much more.
Coughlin was recently quoted in the New Post as saying:
"I think it says a lot about people,'' Coughlin said of how his players handle these last two games. "It talks about responsibility and accountability, competitiveness, believing in each other, really understanding what your team is all about. You've got to have the passion and the character to fight on. That's what you signed up for, that's what this game is all about, is playing as hard as you can possibly play.
"Pride gets involved, the name on the front of your shirt being more important than the name on your back, all that stuff, so I expect that to take place.''
Expect Coughlin's attention to on his players' effort more than anything that takes place Sunday.
"We evaluate ourselves,'' Giants left tackle Will Beatty said, "but it's the coaches' job to be our mirrors.''
If you did not know that Coughlin was talking about football you would think that he was talking about how one conducts themselves and their values.
Tom Coughlin was in fact talking about who and what he is and stands for, and you can be sure that he will not put his tail between his legs and walk away. Rather he will take a long look in the mirror and come back even more invigorated and determined if given the opportunity.
Coughlin has devoted his life to football and those he has come in contact with. Those around him talk about his stamina and the unrelenting schedule he keeps. Coughlin along with Eli Manning are first in and last out and there is not quit in either individual.
Leaving football is going to be difficult for Coughlin he clearly still loves the game and all that goes with it. He is the oldest coach in the NFL for a reason and he seems disinclined to make the transition to a different lifestyle anytime soon.
I could see how the sports media and fans are reporting and suggesting that there is simply a need for a change as perhaps the Giants need a new voice and direction.
But anyone who thinks that the game has passed him by is dead wrong and there is no substitute for experience and wisdom– both of which Coughlin possesses.
Rumor also has it that at age 67 Coughlin's family wants him to leave the game. It takes a very devoted wife and family to understand and support a football coaching lifestyle.
This does not mean that there are not going to be changes with the Giants there has to be. If you recall when Coughlin was brought to task early on by ownership over some of his methods, he made the necessary changes by creating a player committee and relating to the players in a different manner.
The Giants then went on to win two Super Bowls.
I expect the same frank conversation to take place between John Mara, Jerry Reese and Coughlin about what he needs to do going forward.
There is little doubt that the Giants are short on talent in many areas that is very obvious. But it is also clear that Coughlin's message has not been heard by a number of players on the current roster.
Coughlin is a practical no nonsense man and will make the necessary changes requested of him.
But you can be sure that if the Giants are going to make a change it will not be with Coughlin's blessing. It is simply not in his DNA.
Related Posts