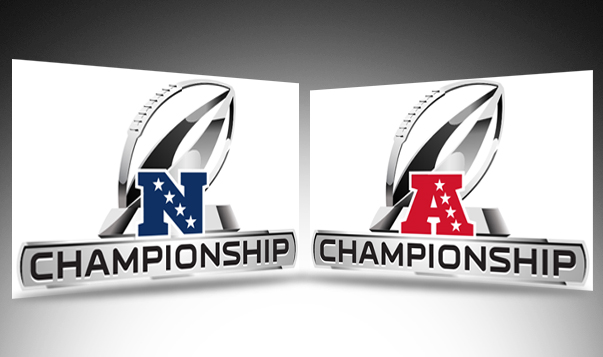 Jan

19
Tags
Related Posts
Share This
AFC-NFC Championship Game Can't Miss Picks-Really and Finally:
Today is the day! The AFC and NFC championship games  are a sports fan's dream come true.  Two iconic quarterbacks in Brady and Manning matchup on the AFC side and two young new- age read option quarterbacks in Wilson and Kaepernick on the NFC side.
Who could ask for anything more? Here is my FINAL take on the matchups and they are my Can't Miss Picks. REALLY!  I have had fun with them and they have been more than well received. Thanks!
Six of eight to date take them to the bank!!
We heard all week about Brady and Manning and their respective legacies, We also got the obligatory new generation versus old generation QB articles as well. But that is done and it is time to play ball!
To date I  have picked 6 of 8 wild card—divisional games.  I went with the Chiefs over the Colts and one point sank me from going 7 of 8!
However what that win by the Colts told me was that their defense was suspect giving up 40 plus points and that at the very least the Pats were going to score on them—which they did.  They rammed the ball down the Colts throat.
http://psychologyofsports.com/2014/01/12/patriots-run-ball-down-throats-of-colts-seahawks-escape-in-poorly-played-game/
The other AFC game it was a no brainer for me picking the Broncos over the Chargers.
Over in the NFC it was a bit harder but I felt that Colin Kaepernick and Frank Gore along with the 49ers defense were going to do enough to win and it was more than enough.
The Saints-Seahawks game was a sloppy one but it showed me a lot in terms of the fact that the Seahawks can be beaten at home.  The Saints had their chances.
Before I get to my can't miss picks I am going to give you my formula and the reasoning of how I come up with my picks– which are sure winners-Really!  Thank you for the positive feedback on them.
Psychologists by nature are supposed to be insightful (but not clairvoyant) but when it comes to picking winners in sports we are as good as well just about anyone else.
Well not really.
As you may know statisticians are constantly working on ways to predict who win will elections as well as sporting events. Ben Silver's 538 is returning to ESPN to work his statistical magic.  Many psychologists are statistical experts as well doing research in a myriad of fields.
I did not consult any football statistical predictive sites, or run any of my own calculations for deriving my predictions.
There is a secret formula that I am going to share as to how I make my picks which are more often than not as good if not better than other experts-if you ask me!
I take many factors into account when I make my choices which I rarely put to paper.
Here is how I proceed.
1-The first thing I consider is my gut feeling based upon what I know about the teams.  That allows for the fan in me to be satisfied as well as my accumulated impressions and knowledge to be taken into account.
2-Next, I read about what the experts, pretend experts, and what the person on the street is saying about the games. This includes print, television and radio media outlets. The person on the street is generally a random person. I do befriend strangers.
3- I also chat it up with my friends and people I know to get their take on the game-although I am most frequently asked first.
So at the end it is sort of like a soup recipe with many things going into the mix to come up with my picks.
Trouble is I like to be correct and I am competitive.
Here goes. I will tell you who I feel is going to win or would like to, followed by who I think will win. This way I can have it both ways!  The second one is my pick meaning the cold-hearted unsentimental winner. Sort of like Emotion versus Cognition.
GAME 1-
BRONCOS-PATRIOTS
As the New England Patriots prepare to play the Broncos it might be prudent to step back and take a look at what is nothing less than a modern era football dynasty.
It is very difficult to pick against the Patriots in any situation. Given how injury ravaged the team is, and how they have performed to date it is truly a testament to Bill Belichick. He is my outright favorite for being named coach of the year. And you can read more about the Patriots organization as I did a special edition post on them before their divisional playoff game-
http://psychologyofsports.com/2014/01/11/nfl-divisional-playoffs-special-edition-new-england-patriots-in-a-class-of-their-own/
The Patriots roster features undrafted and discarded players. They are masters at finding, evaluating talent and cultivating it. Belichick is a master game planner and neither team has a great defense.
The Broncos did show that they can play defense last week to some degree as they were more physical on both sides of the ball then they normally are. Other teams have shown that they can run on them.
They have lost a starting cornerback but the Patriots wide outs do not scare anyone. In fact I heard one NFL expert opine that if we ranked the wide-outs for both the Broncos and Patriots the Broncos receivers would be ranked 1-4 followed by the Patriots receivers!
So for the Pats it will come down again to if they can run the ball against the Broncos.
But you never know with the Pats they find a weakness and exploit it so they may defy what everyone is saying and come out throwing. Keep in mind that is Tom Brady under center for the Pats.  He has made Julian Edelman look like well- a receiver.
The key will be time of possession Denver is going to score points it is just how many.  They have way too many weapons on the offensive side of the ball and their tight end Julius Thomas is a beast. Their other wide outs are no slouches as you know which will put tremendous pressure on the Patriots secondary and pass rush. And finally there is Peyton Manning.
Here is a special edition feature on Manning.
http://psychologyofsports.com/2014/01/18/peyton-manning-a-special-afc-championship-game-edition-the-greatest-of-all-time-2/
Like-The Patriots—all are picking against them and I just admire the way they go about their business and the job they do. Somehow some way they might find a way to win this game.
Pick-The Broncos I just do not see the Patriots keeping up with them in Denver. The first meeting the Pats came back not this time. I actually originally thought this to be a close game any team with Brady cannot be counted out. I actually do not see the final score being that close.
Manning is on a mission.
Game 2
Seahawks-49ers
Everyone seems to be playing up the hate factor between these two teams. The coaches have an ongoing feud since their college days and blah blah blah.  At the end of the day that means nothing.
Both Pete Carroll and Jim Harbaugh are not the most liked coaches in the NFL, but their players love them and I am sure their wives do too!
There is no doubt that the Seahawks benefit from the home crowd. They also possess the best secondary in the league and their defense is well tops in the land. But I thought that the Saints had many opportunities to score on them and did not.
Marshawn Lynch is well something else and is going to present challenges for any team he runs the ball against.  Russell Wilson is an emerging QB who manages a game well and makes very few errors. He also is a clutch player making plays at the right times.  Percy Harvin—I feel badly for him headaches, has been ruled out which takes away a huge weapon for the Seahawks.
The 49ers as I keep referring to them are one tough bunch of hombres. I would not want to be in a fight with that front seven. They are a bit banged up in the secondary so the front seven will have to put a lot of pressure on the Broncos.
Colin Keapernick is emerging as the best athlete on the field every time he steps on it and he is a game changer. There is very little he cannot do on the football field. The job of the Seahawks is to keep Frank Gore in check on first and second downs so CK has to throw a bit longer and more often. But even then he takes off with his legs.
He has great receivers and Crabtree, Boldin ( a gift from Harbaugh's brother) Vernon Davis who seems to shine in the playoffs.
It will be fascinating how the best secondary in the league matches up with these wide-outs.
Jim Harbaugh has won everywhere he has gone. He has something saved for this game. That wild eyed look of his oh my goodness (ya think he has a tender side?)  As I have been saying I would not want to be in an alley with him if he was not happy with me!
Like—49ers
Pick-49ers
Not going to be as close as people think. Initially, it will tight and lcose then when Kap loosens up a bit they will be on their way to SB.
My instincts are saying tight nail biting games so I may change right before game time. That is my prerogative. I have had fun with the can't miss picks, they have been more than well received. Thanks!
Related Posts