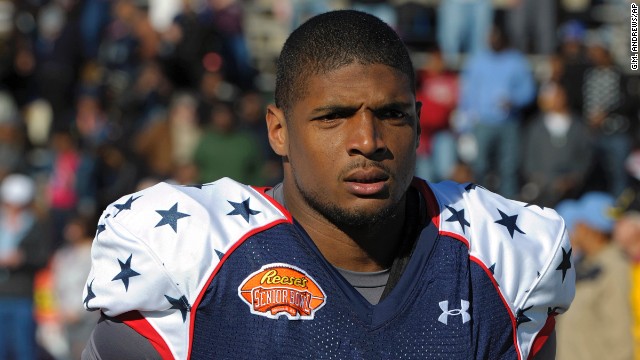 May

14
Tags
Related Posts
Share This
Michael Sam: Homophobes May Get Their Way
Michael Sam the first openly gay NFL player was drafted by the Saint Louis Rams in the seventh round.  Sam was the 249th player to be selected– and that says it all.
When his named was finally called, Sam got a kiss from his partner much in the way girlfriends kiss their boyfriends when they get drafted.  Nonetheless there were tweets from some NFL homophobes who disapproved of the couple's show of affection.
Those who feel there is no room in the NFL for an openly gay player might just get their way–for the moment.  Not because Sam is gay, but because he might not be good enough to warrant a roster spot.
Sam's selection by the Rams while historic will not be long lasting if he cannot play and produce as is the case with any player.  The scouting reports on Sam no doubt dictated his seventh round selection. The Rams have said as much and there is no reason not to believe them.
And while it would be a nice story to see a seventh round draft choice prove all his doubters wrong, the odds are stacked against Sam.
I see a number of possible scenarios for Sam 
One involves him getting cut and going on to write a book and being an inspirational speaker.  Another possibility is that Sam hangs on and bounces around the NFL in what would amount to a non-descript playing career.
Sam has already been offered an endorsement deal. It is rare that seventh round draft choices get this sort of treatment, which tells you his marketability value. Buying power and brand loyalty of gays is a sought after target market—so I have been told.
Best case scenario Sam goes on to be NFL star, breaks the "openly gay barrier" and leaves the game to do what he wants.  Worst case scenario he gets cut and is a celebrity with a platform. 
There is little doubt that Sam would prefer to be a star player in the league as he stated in his warm and welcoming feel good press conference. 
But it says here Sam is going to have some difficulty making the final cut nonetheless going on to be a prolific star player.
If he survives and proves all wrong, it surely will be a great story—at least for some!
Related Posts