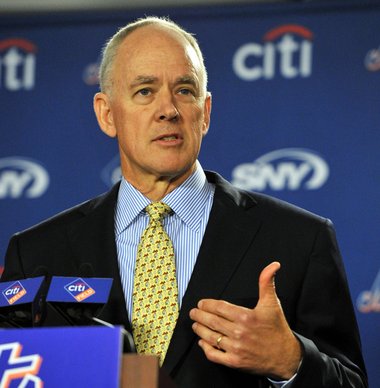 Jun

10
Tags
Related Posts
Share This
Lack of Talent In Mets Front Office Is Seen On Field
Promises Promises is the name of a famous 1968 Broadway musical but the way things have been going for the New York Mets promises is about all we have been getting lately from the Mets. They have been far from anything resembling a hit show or a decent baseball team.
Midway through Sandy Alderson's fourth year as the Mets GM there is little to show in the way of tangible on field results.
Alderson along with his trusted lieutenants are disciples of the Billy Beane sabermetric school. While Beane has rediscovered his inner sabermetric self, Alderson has managed to drastically cut the Mets payroll, while producing unsuccessful prospects along with mostly failed free agent signings.
The Mets front office is armed with the same sabermetric data that all the other major leagues clubs have access to.  Not only has Alderson and his crew turned out to be horrible sabermetricians, they are also miserable talent evaluators.
In assessing the team, it would be fair to say that Alderson has been unable to put together any semblance of a bullpen and has yet to develop a bonafide major league homegrown hitter.
Jennry Mejia is in a tryout phase of learning to become a closer, and any potential hitting talent is playing below the Triple A level. Lucas Duda only seems to hit when it does not count.
The jury remains out on Zach Wheeler and Travis d'Arnaud. Wheeler looks like he is going to need some time to round out into the back end of the rotation starter he appears to be.
As for d'Arnaud he was recently demoted to the Las Vegas club to find his swing. The pitchers may love him but d'Arnaud needs to hit the baseball in what is a bottom line business.  
No one is sure of what the future holds for Wilmer Flores or Reuben Tejada. There seems to be no logical position for Flores and Tejada at this point is either a head-case or needs a pacifier.  Perhaps both but maybe one day he will mature.
Matt den Dekker, Juan Lagures and Jeremy Familia are unproven commodities, and Jake deGrom may yet turn out to be the best of the lot. But he too joins the list of very short term successes.
Somehow Matt Harvey became one of the greatest pitchers in the game off of one fantastic season.  But that is how we do things these days. Greatness is achieved in the short term.  
Harvey and anyone else for that matter can talk all they want. There is no certainty that Harvey will return to the pitcher he was prior to his Tommy John surgery.
Noah Syndergaard is scheduled to join the big club sometime in August but he too remains an unproven commodity who appears to be a tad snake bit when it comes to being injured.
For those who have any questions about the Mets off season signings the name Chris Young says it all.  Bartolo Colon was and is a stop-gap signing,  and Curtis Granderson is well–Curtis Granderson.
Finally, the team even when it is playing well lacks panache. When it is not playing well they are listless and a horror to watch.
The importance of computer generated data cannot be underestimated and it is used pervasively in our society. And the Mets have fallen behind the curve here, as Alderson and his teams successes with the A's were a long time ago.
Doctors seem to rely on data almost exclusively which is contributing to a diminishment of diagnostic and interpretive skills.
We face an uncertain future as computers slowly march toward what will probably be untold levels of artificial intelligence.  However, for the present human interpretive and diagnostic skills are still required.
All who are in possession of highly sophisticated computers and the data they generate make mistakes. In medicine when this occurs patients suffer, in sports teams like the Mets lose.
Conversely those who interpret the data and evaluate talent properly win.
Once again this season the Oakland A's with an opening day payroll which ranked 25th lead the American League West division on a relative shoestring budget.
While some might be calling for the Mets to invest more money that is a misguided approach. They need to invest the money they do have more wisely
Many often wonder if fans who are fickle would be satisfied with a relative bunch of no name winners in New York as is the case in other cities.
And the answer is an unequivocal yes as fans want winners at any cost.  Teams who have won with low budgets develop new stars who are embraced by the fans.  
Good ballplayers are always going to be out there to be found—as is the case with talented front office people.
It seems that the Mets are still searching for both.
Related Posts