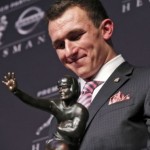 Aug

11
Tags
Related Posts
Share This
Johnny Manziel: All Is Up For Discussion
I recently wrote an article which created quite a stir. The crux of the article spoke to how and why people achieve fame, fortune and notoriety in our society, which has changed considerably over time.
It also spoke to people's work ethic and what can be achieved from hard work and preparation.
The article drew comparisons between Kim Kardashian and Johnny Manziel as examples of two individuals who have not accomplished a great deal, but whose fame is disproportionate to their achievements. It is a fact Kardasian's fame dwarfs Manziel's.
Nonetheless some were aghast that I compared KK with Johnny Football. Perhaps I would be too!
But that was really not the thrust of the article.
First, it is no way lost on me what Manziel has achieved, perhaps I should have been clearer on that point, but I thought it obvious. My mistake.
Moreover, I never lose sight of the fact that you cannot control what people will take away from a conversation, or the written word. The reaction to the Manziel article ran the gamut, but I can certainly see how people would defend what he has accomplished. Which is what they think and it is also their assessment of what he has achieved.
For those who have difficulty tolerating disagreements, it has been my experience that this leads them to repeatedly engage others who do not share their views, especially when it has emotional meaning for them.
In this regard, people often condone behaviors that they could see themselves engaging in, or wanting to perhaps engage in. So it would make them emotionally hypocritical if they criticized something they have done, or secretly wished they could do.
Additionally, some people often have difficulty accepting not only differences of opinion, but want to make what is subjective, objective.
It has been my experience that people have great difficulty dealing with the subjective which makes up most of the world, like the oceans.
Therefore, they attempt to impose objectivity to help them emotionally and cognitively frame the world and navigate the unpredictable seas.  Predictability most frequently trumps the unknown.
In the case of Manziel he is an entertainer. For those in the industry they can certainly understand and relate to what it is to achieve, but that is the case for any job.  The formula for success in all fields is the same.
If in fact Manziel's peers, fans et al. find him to be accomplished then for them–he is. It is just that they need to allow room for other opinions.
Finally, Manziel is in the employment of the Cleveland Browns.  If his employer is happy with his on and off the field behaviors at the end of the day that is all that counts.
Related Posts