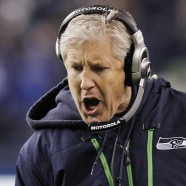 Feb

02
Tags
Related Posts
Share This
Pete Carroll Defiantly Defends The Indefensible
There is absolutely no way around the fact that Pete Carroll made a horrific call that will live in sport infamy.
It was a terrible, terrible call you have the best back in the game in Marshawn Lynch and you need to use him in that situation.
Why did Carroll do what he did– only Carroll knows for sure. However there is no way around the fact that this was a horrible decision on the biggest stage of them all. Yet he continues to defend his decision and reasoning which speaks solely and only to Carroll. Why is this the case?
There were a million reasons to run the football in that situation, and I will not go into all of them here. However, there is one given in the game, when you put the ball in the air there is a greater chance of bad things happening versus when you run the ball. Anyone who knows about football knows that–and it is common sense.
The Seahawks had just taken the air out of the Pats on a four yard Lynch run where by some miracle Lynch did not score and they had the Pats reeling, and the Seahawks decided to throw the ball!
Just a horrible call and if Pete Carroll believes he did not make a mistake that is up to him. By definition he made a mistake because of the way it turned out. If Carroll is able to reflect on his decision, then good for him.
I work with people all the time who say they made their best effort. That is all that anyone can ask-which is to give one's best effort. Effort and attitude are under one's control. If Carroll believes he gave his best effort and has no regrets then that is all there is to it.
If he is able to live with the outcome saying it was his fault that is fine too. There is a difference between saying it is your fault and taking responsibility for it. Meaning you made a wrong decision. Yet Carroll continues to support  his actions  defending  the call he made– all the power to him.
But is it really the case in this instance?
It has been my experience that when an overwhelming majority of people disagree with your actions you need to seriously consider what they have to say. This is what a secure, intelligent ,introspective,mature person would do.
In speaking with people who have worked with, and know Carroll personally they have told me he is a great guy. They describe him as a good friend, a loving husband and family man.
But that has little to do with what happened in the Super Bowl. Carroll can be as nice as pie, but he needs to take a good long hard look in the mirror and perhaps rethink his position that the play that was called was correct, and  it was just the outcome that was not.
We are about to find out how self-reflective Carroll is.
Related Posts