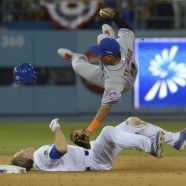 Oct

11
Tags
Related Posts
Share This
Tejada-Utley The Mets Lose By The Numbers
1-The Mets lost game two because they were not good enough. Chase Utley's slide took away from a number of salient points that pointed to a poor Met performance.
2-The umpires decision to not call interference or for that matter a personal foul (football style) definitely hurt but would, have should have, etc. does not make up for the poor play of the Mets who looked anemic at the plate.
3-Their approach at the plate was terrible. They wasted the precious few opportunities they had which were erased by double plays, not stringing hits together and lacking plate discipline by swinging at balls.
4-Yoenis Cespedes is going to get his money from someone however his plate discipline is beyond bad. He cannot catch up to a high fastball and chases way too many balls out of the zone (sliders in the dirt).
5-The Dodgers hit the ball harder and had many more scoring opportunities.
6-If the first batter of the fateful 7th inning was not walked that too would have limited the scoring damage
7-How many batters did the Mets walk?
8-Daniel Murphy has great value to the Mets that is obvious. His base running gaffes and his fielding at second base cost the Mets. In little league they teach you NOT to loop the ball to second base. Not that it would have mattered given that Utley thought he was playing football.
9-The Mets still have major leaks in their bullpen Tyler Clippard is not what he once was.
10-The only way to fix this is to go out and beat the Dodgers by playing better than the Dodgers.
In game two they did not do that. Simple as that.
Related Posts