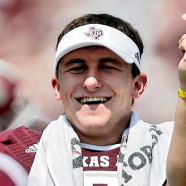 Feb

05
Tags
Related Posts
Share This
Browns Should Have Taken Vontae Mack Over Johnny Manziel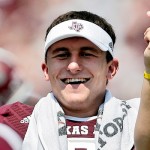 One of the major tenants of psychology is that the best predictor of future behavior is past behavior unfortunately that research finding was not taken into account when the Cleveland Brown's drafted Johnny Manziel.
They surely should have taken a page out of Sonny Weaver's play book who was the Cleveland Brown's general manager in the movie Draft Day, when he passed on flawed character star quarterback Bo Callahan and drafted Vontae Mack.
Things would have been looking a lot better now if they had heeded the telltale signs that were there all along about Manziel as Weaver did with Callahan.
Everyone one has Manziel being released come March as the Browns have had it with him, and who could blame them.  His agent just cut ties with Manziel as he was resistant to his suggestions to get help. It is highly uncommon for an agent to cut ties with players in any sport.
Looking back Manziel was as much a media and fan creation as were his abilities. One or two fantastic college years does not add up to a successful professional career- especially when you are between the ages of 18 and 20. This has been proven time and again yet, many pro-teams just do not learn!
When you take into account the numerous social-emotional and behavioral pre-cursors that Manziel was displaying during his college days that potentially pointed to the issues that he has been mightily struggling with, one can have little pity for the Browns– or the next team that Manziel lands with. And make no mistake about it, some team will take a flyer on Manziel–someday.
I take no joy over being correct or being out-front when I suggested that Manziel was heading for a downfall and when I also said that his fame was overblown.
How can anyone feel good about someone suffering from the issues Manziel is?
At this point it is obvious that Manziel needs to deal with his substance abuse problems which he has already been in treatment for. However, I always felt that Manziel was a very impulsive person and this impulsivity has been displayed both off and on the football field.
It is actually both his greatest strength and weakness as watching Manziel making something out of nothing was well– spectacular at times.
Manziel is also a very angry person whose anger is always right below the surface. His encounters with his girlfriends and authorities attest to such. And people like Manziel deal with their demons by escaping and alcohol and perhaps other things appear to be Manziel's best coping mechanisms at the moment.
One also has to wonder how much Manziel got caught up in his own hype, meaning that he evolved into Johnny Football and abandoned what was probably an ill-formed identity to start. So in essence, people like Manziel do not know who they are– and never did.
It is not uncommon for people like Manziel to engage in self-destructive behaviors including threatening to commit suicide and resisting treatment as they do not possess the core foundation to weather personal storms or inner demons.
It is hard to predict what is going to happen to Manziel as any drug addict or common sense will tell you. With the recovery rate still hovering around the 25-27 percent rate it is going to be a long uphill battle for Manziel and that does not take into account any potential secondary diagnoses which he might have.
Moreover, Manziel has had more relapses than we can count which does not bode well for him. It has been reported that his father is concerned–he should be. People who are on destructive paths no matter how hard you try to help them-if they are not in a place where they can be helped-there is no stopping them from hurting themselves.
Another fallen star and media made hero sad story, we can only hope that Manziel gets the help he needs.
As for the Cleveland Browns, they should have taken Vontae Mack.
Related Posts