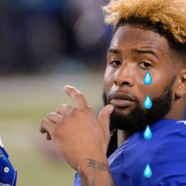 Jan

08
Tags
Related Posts
Share This
Giants Lay Egg In Green Bay-Predictable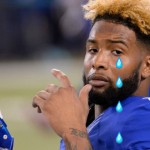 All week long I heard and read about how when the Giants get into the playoffs they are a dangerous team.  Memories of 2007 and 2011 were being thrown about like disposable diapers. Well they were disposable diapers as the Giants put up a stinker against Green Bay!
First, memories are just that. Maybe for the fans and the media it made for a good story.  All week long columns about the past and other trivia stories were thrown out in a manner in which the Giants were just thrown around by the Pack. Guess you all got to write and speak. We get it.
How many players are on the this Giant team from those years?  I am not even going to look it up—but my guess is not many. And the fact that the Giants beat the Packers years ago well these are two completely different teams.
So the idea that these teams had any connection to those teams other than playing for the same organizations was ludicrous.
Please! And who cares about facts anymore? We certainly don't- you can make them up in politics-why not make them up in sports?
Good stories but little reality. Sort of like the government we are going to have.
The Giants had their chances and when the presses roll you are going to hear what was obvious from watching.
1-The Giants could not score points all season long and they did not today.  They were going to turn it on after 16 games. Really?
2-You drop passes you kill drives and chances to score. Odell Beckham Jr. is a star but he has to catch passes-yeah I know his thumb is falling off.
3-The Hail Mary pass perfected by Aaron Rodgers was in my opinion the turning point of the game.  Although the Giants had their chances after that. Rodgers both figured them out and exposed some weaknesses.
4-The loss of Dominique Rodgers Cromartie was huge to the secondary. Trevin Wade? Please.
5-Bobby Rainey did not learn his lesson from the brain fog he pulled early in the season. Chances were he was going to do the same again. The best predictor of future behavior is the past.
Ask yourself would Bobby Rainey be fielding anything but getting water bottles for special teams if he were playing for Bill Belichick?  Cyrus Jones is not going to touch a ball for Belichick in the playoffs.
Now you are going to hear what the Giants need to do in the offseason. You do not need to be a rocket scientist to know that the Giants need to draft a future starting QB as Eli Manning is not what he once was.
The Giants still need an offensive lineman or two duh– and a few tweaks to their defense. They need to make changes to the offense..what a shock.
You are going to hear how young the team is and it did get much younger and how bright the future is.  As for the media–tell us something we don't know. If we can figure it out and this is not our full time job…..
As for myself I had the Giants going 9-7 or 8-8 so they exceeded all my expectations. Are they on the level of the Steelers, Packers, et al? No they are not. Until they reach those teams in performance–an organization like the New England Patriots is on a whole different planet-as perhaps we are going to find out once again.
However for today pure and simple the Giants laid a rock in Lambeau—simple as that.
Post script–I did not realize how much play the boat trip Beckam, Cruz and Sheppard took a week before their game was going to get. Sure–lay their performances off on that.  No one in the Giants locker room seemed to give a hoot including the coach. How come we do?  Got to write something!
Related Posts